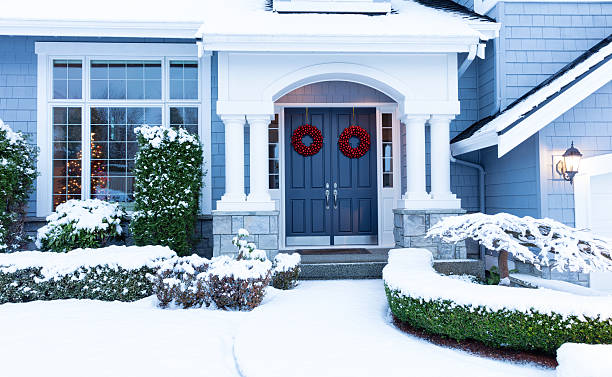 Wintertime is synonymous with icy landscapes, snow-covered scenes, and beautiful imagery. This provides the perfect backdrop for your property and allows you the opportunity to ornament it with trees, shrubs, and hardscapes. When decorating your lawn with various plants or objects, there are important landscaping tips to keep in mind. Continue reading this winter landscaping guide so you can keep your garden picture perfect throughout the colder months.
Don't Stop Watering
Many people think that just because the temperature is dropping that grass and shrubs no longer require regular watering— that is not the case! Not watering your plants, lawn, and hedges can result in several issues, including making them susceptible to disease. Every winter, come back to this landscaping guide and don't forget to hydrate your greenery.
Cut Your Grass Short
The optimal grass length for the winter season is within the range of 2 to 2.5 inches. When outside of this range, your grass is at risk of contracting diseases such as snow mold. When keeping your lawn perfect, it is important to follow this landscaping guide and maintain your grass length during the colder months. Furry creatures such as mice like to hide and dig nests in the grass during these months. Although they are cute, they can provide damage to your lawn.
Pick Out Winter-Blooming Flowers
Uncommon to popular belief, flowers will actually be in their prime during these months and are a perfect addition to your garden. There are a variety of options: violets, pansies, snowdrops, honey wort, and winter jasmine. The guide goes on (in fact, you can find an extensive one here to aid you in your selection). These flowers will be sure to brighten up any drabby lawn! Each flower comes with their own set of care needs and blooming periods so make sure to read up before making any big purchases.
Incorporate Light Outside
Your homescape can easily be elevated with outdoor lighting, which is especially nice given how early it gets dark during this season. Wall lights are great for your home's exterior and spotlights are perfect to accentuate paving, decking, and steps. There is a slew of equipment to pick from, and the possibilities are endless.
The cold season should not be a time for slowing down on backyard development— if anything, it should spark some more creativity! This winter landscaping guide should be just enough of a kickstart to get you working on your winter homescape. If at any point you seek assistance with any of your landscaping troubles, contact Giovine Landscaping! They are here to support you through any landscaping issue you have! Their professional team can also assist you in decorating your lawn for the perfect winter set-up! Call now at: 973-325-1758.
Follow Us On Facebook For Updates!