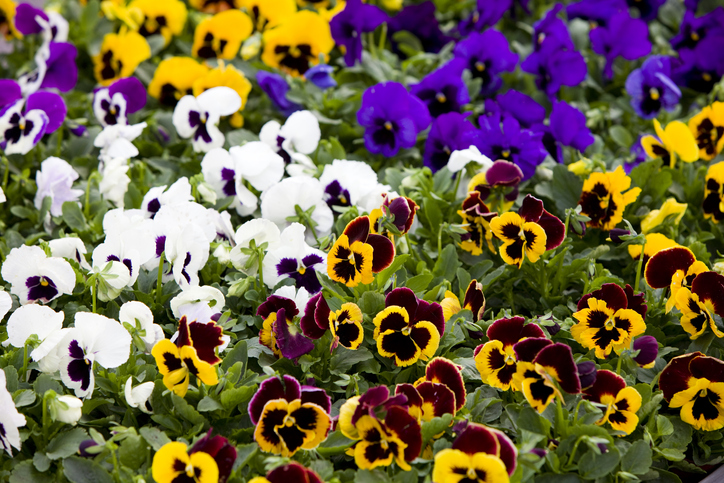 Spring is officially here, and the weather is finally starting to warm up. Early spring can still be chilly, which means we may not have seen the last frost yet. In the New Jersey and New York areas, Mother's Day is traditionally considered a good time to start planting for the season, as the last frost is usually safely behind us by then. The danger of planting before the last frost is that the soil can get too cold for your flowers to grow. As Mother's Day is not that far away, now is a great time to start talking about popular flowers to plant this Mother's Day.
Of course, your location will determine which flowers will thrive best and when you experience your last frost. If you are planting perennial flowers, you'll also want to pay attention to which plant hardiness zone your area belongs in to know which flowers will thrive best. New Jersey ranges between plant zones 6 and 7, so be sure to check your own area so you make the best growing choices for your garden.
1. Petunias
Petunias come in a variety of vibrant purples, pinks, and blues, and they stay beautiful for several months. In fact, in some climates they can even come back the following year. If you are looking for an easy flower to plant that will brighten up your landscaping, petunias are a safe bet. You can also plant petunias in containers if you have a deck or other hardscaping that you want to bring some natural color to. Additionally, petunias have a pleasing fragrance.
2. Pansies
Pansies are one of the most popular flowers to plant in the early spring because of their hardiness. They can withstand colder temperatures as well as the warmth, so they will do great as one of the first flowers you plant this season. You can find pansies in reds, yellows, purples, pinks, whites, and several other colors, so they'll truly bring color and life to your garden.
3. Hydrangeas
Hydrangeas grow on a bush and the large clusters of blooms make a statement on your property. This flower is easy to care for and will come back year to year, so it's a great investment for your garden. If you want to bring soft blues and purples into your landscaping, hydrangeas are a perfect choice. They add ethereal beauty in the way their blooms group together, so it's no wonder they're a common choice for wedding bouquets!
4. Sunflowers
You may think of sunflowers as a summer bloom, but they actually need to be planted in the spring. Sunflowers need more space to grow than some of the other flowers mentioned here, so make sure you give them enough room when you plant. Come mid-summer, you'll be rewarded with some sunny, bright sunflowers!
We Can Help You With Popular Flowers to Plant This Mother's Day
No matter what kind of garden you're imagining this spring, the experts at Giovine Landscaping can help make it a reality. We'll work with you to help you choose the most appropriate plants so your garden will thrive. Be sure to reach out to us with all of your gardening needs!