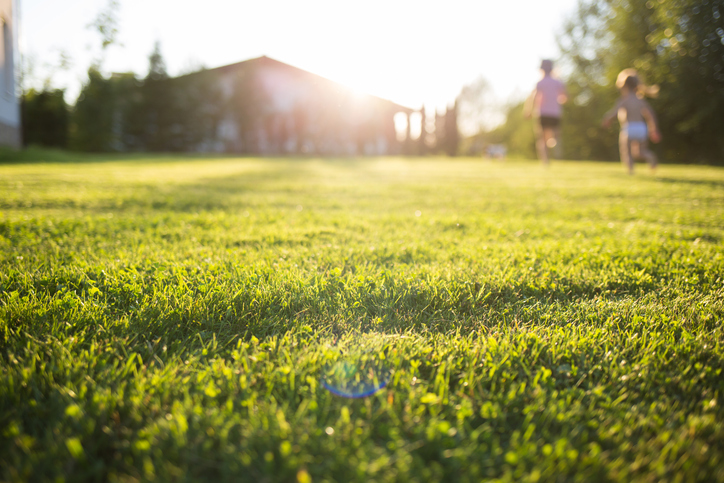 Summer is a great time to use your backyard for barbecues, sports with the kids, pool parties, and lazy days reading on the patio. However, summer is also an important season for yard maintenance. The experts here at Giovine Landscaping have compiled six summer yard maintenance tips that all homeowners should know. 
Water Your Plants Strategically
You probably understand that the plants in your yard, like all life on this blue planet of ours, need water to survive, especially during the hot summer months. However, it is not enough to simply water your plants. You have to do so strategically. For instance, you should water your plants during the early morning. By midday, it is too hot; the water will simply evaporate without helping your parched plants. Your lawn needs about one inch of water a day–from either rain or human intervention–in order to stay green and beautiful.
Homeowners also need to understand the needs demanded by their specific soil types and plants. For instance, some hearty native plants may require less water than imported species and grass lawns. Plants in containers like hanging baskets also require more water than ground plants–sometimes even two waterings a day, depending on the weather and species. You should also consider installing a drip irrigation system or soaker hose to supply water directly to the roots of your plants to save water. If you have questions about your watering strategy, call the experts at Giovine Landscaping.
Let Your Grass Grow Taller
It is tempting to cut your grass as short as possible to reduce the frequency of mowing sessions, but this is a mistake. In the summer, lawns that are cut too short are susceptible to drought. Cutting your lawn too short can cause yellowish-brown dead patches of grass to appear, blighting the green beauty of your yard. The proper height to keep your grass varies based on local microclimate. According to Rutgers University, the ideal height of lawn grass in New Jersey is within the 2½ to 3 inches range, so your grass should be left at least at this height. Cutting your grass higher reduces the stress placed on your lawn during mowing and reduces the need for fertilizers and pesticides that can be environmentally harmful. Taller grass also shades the soil, cooling vulnerable grassroots, preserving soil moisture, and shading out ugly weeds. It is also a good idea to leave grass clippings on your lawn so they can biodegrade and naturally fertilize your yard.
Mulch And Fertilize Your Yard
Mulch is essential because it helps keep soil cool during hot summer days. You should cover bare soil with mulch to slow down evaporation, suppress weed growth, and to help maintain the aesthetics of your yard or garden. In areas of bare soil between your plants, add two to three inches of mulch in order to protect your plants. Make sure not to let the mulch actually touch the stems and trunks of your plants, though, because this could cause moisture buildup and rot.
To create mulch, you can use compost, stones, dried leaves, or even old newspaper. It is also important to use the appropriate fertilizer in your yard during the summer months. During summer the best fertilizer option is a slow-release formulation with a lower nitrogen content, but you also need to keep in mind your specific plants and soil conditions.
Giovine Landscaping Can Help You Manage Your Summer Yard
Your summer yard can thrive with the proper care. For all of your landscaping needs in every season, reach out to the experts of Giovine Landscaping. Call today for a free quote!