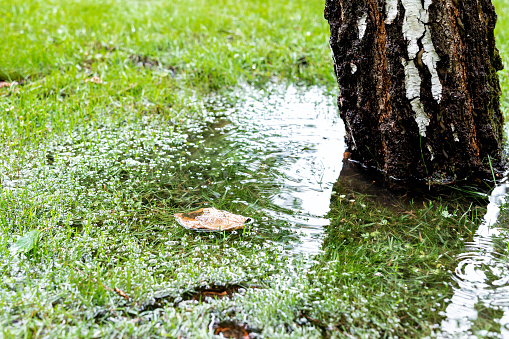 Throughout the year, your yard will get a lot of water from the rain. Especially during the spring and late summer. These past few weeks, we have been experiencing a lot of storms with heavy rain. With all this in mind, it is important to find ways to get rid of all this excess water. Drainage issues in the yard can cause not just standing water damage to your grass and plants, but it can also be a health hazard. Standing water can hold mosquito larvae along with other undesirable pests. So, let's take a look at ways that you can improve the drainage in your yard.

Keep The Landscape Drainage Routes Running Freely
You should look to avoid obstructing the run-ff drainage paths that come with raised gardens, planters, or berms. A great tip is for your yard to have a gentle slope that drains the water to a given route. However, if these routes are blocked, it will caused a flooded lawn. Ground runoff is responsible for a lot of surface drainage even in areas where you have installed other types of in-ground drainage systems. You should be inspecting the natural ridges in your lawn where water flows and make sure to remove any obstructions that could impede the flow of water.

Consider An Inlet Basin or a Channel Drain
If you are unaware, an inlet basin or detention basin is a place that rapidly collects water and then releases it slowly to reduce any impact it may have on the surrounding area. This can be installed just below the surface of your landscape and you can have several installed across the yard to catch any large amounts of water that may come from a storm. These are very essential especially if you have a property that sits at the top of the landscape. This is because any large amount of water collected by the downspouts can find its way onto the ground if a drainage pipe is blocked and this can damage the yard if it is left to flow as runoff down the landscape. Be sure to place the inlet basins on the upper part of the landscape so it can collect as much water as possible before it makes its way downhill.

Harvest The Water Wherever Possible
You may also want to harvest the ground runoff water by installing a storage well or a water barrel below the grade. Then, the collected runoff can be used to water your lawn. This is a great option that doesn't require you to have proper systems to drain away the water at the lower end of your garden or if you are looking to conserve water for drier seasons. Keep in mind that when you are building a water harvesting system, you will need to take steps to ensure that the soil and other debris does not get into the well. Any accumulation of silt will reduce the amount of water the storage can hold.

These are just a few tips that you can use to improve the water drainage on your lawn. For further questions or assistance on the matter, please feel free to contact Giovine Landscaping at (973) 325-1758!