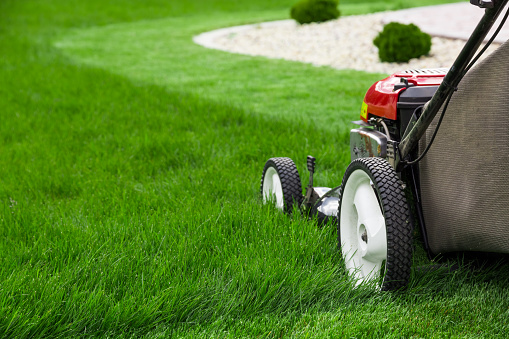 There are few things better than a lush and green lawn during the summer. Not only does it feel good to have, but it also adds a lot of curb appeal. Now, while mowing the lawn may not be at the top of your priority list, it is still an important part of proper landscaping maintenance. Plus, there are little tips you can implement to make the job quicker which would make your life more comfortable and possibly even help you enjoy doing it. So, let's take a look at some key tips to remember when you get to mowing your lawn.

Keep Your Mower Height High
If you cut your grass too short, you will risk exposing the soil and that can make your lawn unhealthy. Shorter grass also allows weed seedlings to flourish on your lawn which will make your yard susceptible to drought or extreme temperatures which would then undo any work that you might have done up to that point. So, you will want to keep the blades on your mower at the highest or second-highest setting, especially early in the summer season. As the season goes on and you begin getting into the fall, you may elect to go shorter if you prefer.

Change Your Patterns
You might be quite amazed to learn that how you mow your lawn can affect the growth and health of your grass. Most people think it is as simple as running the lawnmower over the green to get the job done. However, the way you run it over the grass can affect what it will look like the next time you need to mow it. So, it might be worth remembering to change up the pattern that you mow it each time. The grass is actually an intelligent plant and can develop a grain growth going in whatever direction you mow. This causes it to lean to one side and grow disjointedly and that can make it harder to mow it. So, by changing your mowing pattern on a regular basis, it will cause the grass to grow upright and allow more even growth across the yard, making your life easier for the next time you decide to mow the lawn.

Sharpen The Mower's Blades Regularly
When you have sharp blades, you will have a more clean cut. However, if the blades on your lawnmower become dull, then they will rip into the grass unevenly which could create openings for any pests and other problems. Additionally, if you cut over stones or stray branches, it can ruin the blades over time. So, it would be a good idea to remove and sharpen the blades or even replace them at the beginning of the season if you want it to perform at its best. You might also want to keep a spare blade stowed away in the event you do not have time to sharpen.

Consider Grass-Cycling
This unique technique involves occasionally leaving some of your grass clippings on the lawn so that they can serve as a natural fertilizer. This is also pretty easy to do if your grass is a bit shorter in height. These clippings will help to feed the grass below and prevent any exposure to weeds or potential drought.
Mowing the lawn may not be everyone's favorite chore, however, it is integral to maintaining a healthy and beautiful lawn. Hopefully, these tips will help make things easier for you this summer. For more information or additional tips on mowing the lawn, please call Giovine Landscaping at (973) 325-1758!