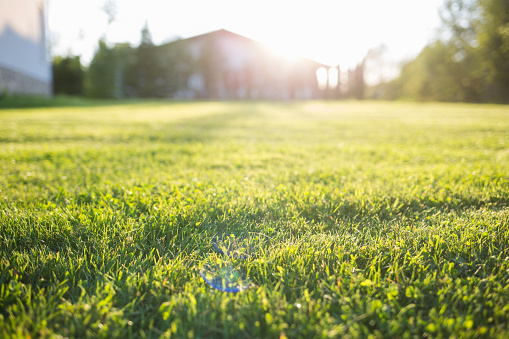 If you are looking to make your lawn healthier and more attractive, then you will need to increase the organic matter of your lawn soil. The right amount of organic matter will increase the soil's capacity to hold water and nutrients. According to the EPA, about fifty percent of total landfill waste consists of yard waste that most people can recycle and use as compost. Doing so not only feeds the soil, improving its quality, but it also is the more environmentally friendly approach. Yard grass and leaves are an essential component for soil rejuvenation that homeowners can utilize without even having to spend a penny. So, here are some of the benefits to recycling your leaves and yard grass.
Improves Quality of Soil
As mentioned previously, recycling your grass and leaves will greatly improve the quality of the soil as it will enhance its water holding capacity while reducing the chances of plant diseases. In addition, littering leaves and plant residues will encourage the production of good bacteria and fungi in the soil, creating humus which is a nitrogen-rich material in the soil.
Reduces The Use of Chemical Fertilizers
When you have leaves and dry grass littering all around your lawn or garden, you will not need chemical fertilizers as much to feed the soil which will in turn lower your carbon footprint while also saving you a few extra dollars over time.
Creates A Garden Ecosystem
Aside from the friendly bacteria and fungi it creates, littered leaves and grass also invite many creatures like squirrels and other small animals that may see it as an inviting habitat. So, if you were looking to create a small wildlife garden in your backyard, recycling the plant residues is a great place to start making that happen.
Here are some of the most common ways to recycle your leaves:
Mowing – Mowing the lawn not only maintains the height of your grass, but also helps to recycle littered leaves. If the thickness of the residual leaves is less than an inch, then let them dry out. But once that is done, you will want to mow them with your lawnmower as it will allow the small leaf particles to decompose quickly without hurting the grassroots underneath.
Mulching – Mulching allows you to keep the soil cooler during the summer months which are approaching. It shields the soil while protecting it from loss of moisture. During the winter, mulches can act as insulators, reducing the effects of the fluctuating temperature. Mulching can also keep weeds at bay and suppress the spread of plant diseases.

There are other ways to recycle your plant residue to further benefit your lawn and garden. If you would like more ideas or need assistance in any of these tasks, feel free to contact Giovine Landscaping today at (973) 325-1758!