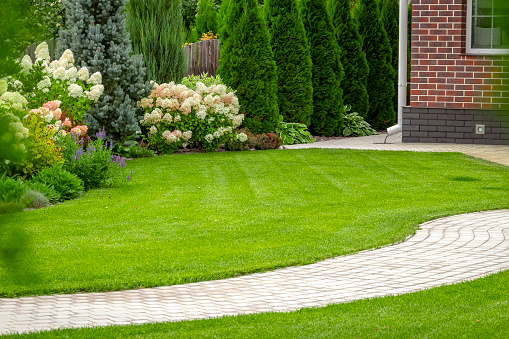 Have you ever taken a look at your lawn and it looked dead or like it was dying? Was it filled with brown grass instead of green grass? If so, you shouldn't give up hope just yet as there is a chance that there is still life in that "dead lawn." It will just take a little TLC to restore it back to life. So, let's take a look at a few tips that can help you bring your lawn back to life.

Understand The Issue
The first thing you will need to do is fully understand what you are dealing with. Looks can be deceiving, so it may not be as bad as you think. For example, for those who live in warmer climates where the lawn turns brown during the winter, it may be that you have warm-season grass that naturally goes dormant during the winter season. So, this should become green again by late spring into early summer. On the flip side, cool-season grass may turn brown and look dead during the summer if they are forced into dormancy due to the excessive heat and drought. Now, if your lawn is neither of these, then you will need to give it a little care if it starts looking a little dead.

Prepare Your Lawn
When it comes to bringing your lawn back to life, you will want to start by getting rid of any weeds that may have crept in while it was stressed and brown. These weeds compete for water, lights, and nutrients, so make sure you are not ignoring them. You should also plan ahead if you plan on using weed killers because they can inhibit new grass along with the weeds. So, be sure to allow at least three weeks in between weed treatments and lawn boosting.

Apply Lawn Booster
An all-in-one lawn booster will combine everything you would need to bring your dead lawn back to life. It includes premium seed, fertilizer, and soil enhancer. The only thing you will need to apply it is a normal lawn spreader similar to what you would use for seed or fertilizer. Make sure, the one you are using works best for you and spread it evenly over your entire lawn. Even the spots that are not brown will benefit from the boost. This will help your grass grow quicker, thicker, and greener.

Water Consistently
Watering your lawn consistently will also be crucial in turning brown, lifeless grass into a vibrant green. The grass seeds must have constant moisture in order to germinate and establish healthy roots, so you cannot skip this step. Make sure you are watering your lawn daily so that the soil will stay consistently moist. You may even water twice a day if it is necessary. You will want to continue doing so until the new grass sprouts and grows tall enough for its first mowing which would be about 3 to 4 inches in height. At that point, you can gradually transition into just regular lawn maintenance which would include 1 inch of water per week.
So, these are just some tips to help you bring some life back to your lawn if it starts looking brown and dead. You will want to make sure to keep up regular lawn maintenance even after following these tips to keep it looking its best. For further information on proper lawn maintenance, feel free to call Giovine Landscaping at (973) 325-1758!