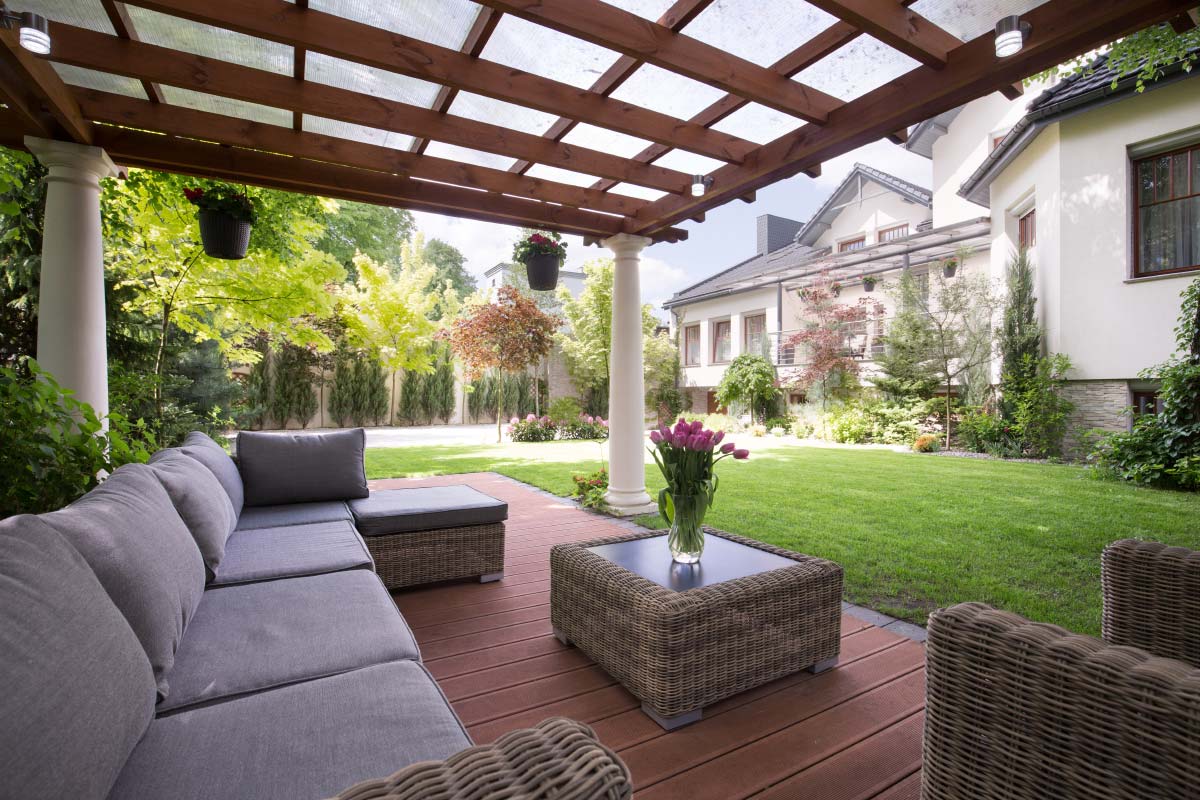 What's a pergola, you ask? Our guess is that you've seen a pergola before, but just never knew the official name. A pergola is an open-sided garden structure supported by pillars and topped by an open-lattice roof, as shown in the picture above. They create a shaded lounge area in a garden and are sometimes extended to form shaded walkways as well. While a pergola may sound like an extravagant investment, there are tons of benefits of building one on your property today.
Shade, shade, shade
As much as we love sunny days, the sun can prematurely age our skin. Studies have shown that UV exposure is responsible for 80% of visible facial aging signs, such as wrinkles, sagging, and so on. Furthermore, it is common knowledge that regular and prolonged exposure to the sun is the cause of most cases of nonmelanoma skin cancer.
The American Academy of Dermatology recommends daily application of broad-spectrum sunscreen with SPF 30 or higher. On top of regular sunscreen application, the simple decision to sit in the shade rather than under the sun can make a drastic difference to your skin and appearance for decades to come. Installing a pergola will allow you to enjoy the spring weather without sacrificing your health. Furthermore, sitting in the cool of the shade will prevent you from overheating or unnecessary sweating.
Extra Living Room Space
Some homeowners prefer to add a pergola as an extension of their living room. This gives you and your family more room to move around, with the added benefit of blue skies, fresh air, and garden views.
Garden Transformation
In many homes, the pergola is the centerpiece of the garden. Adding a pergola can completely change the way your garden and backyard looks. Climbing plants, like roses, honeysuckle, jasmine, or grapevine, can be grown over pergolas to add a gorgeous touch that appears much more elaborate than the process really is. Adding these plants also provide extra shade in the summer months.
Boost Curb Appeal
When prospective buyers are looking at house after house, only the most unique and beautiful homes stand out. Having a stunning pergola in your yard means that you can leave an unforgettable impression on prospective buyers and even guests and family. The special benefit of a pergola is that it takes very little effort for it to look good. Even the most simplistic style can look straight out of a magazine. And when vines or plants are grown over it, your garden or backyard will look ravishing.
Homeowners who enjoy building their own projects can build their own pergola right on their property. But for those who may not have enough time or energy to spare, having a professional come in is usually a good idea. A dedicated and professional landscaping company, such as Giovine Landscaping, will take the time to understand your property, have you choose from a variety of styles and materials, and make your dream pergola come to life before your very eyes.