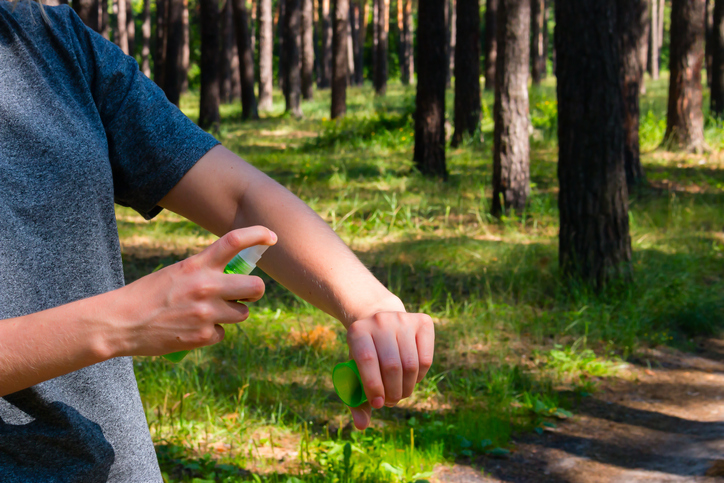 During the summer, people love to flock outdoors and soak in the warm sun and relaxing breeze.  However, so do pests and they can wreak havoc on your lawn and landscapes without proper maintenance and attention. Not only that, without pest control, they are more likely to threaten the health of your home by invading the indoors. In order to help your landscapes thrive, we at Giovine Landscaping have compiled this list of helpful pest control tips. 
Keep Your Landscape Trimmed and Pruned

Pests flourish best in lawns, gardens, and greenery that is allowed to run wild because there is more space for them to hide out from predators. That's why it's recommended to make sure that your grass is kept at a maximum length of 3 inches, which is long enough for kids to enjoy and run around on but short enough to deter pests from setting up shop. Trimming trees to a recommended two to three feet distance from your roof and pruning shrubs are not only a great way to maintain a neat and refreshing look for your lawn, but it can also make it more difficult for pests to thrive or enter your home. 
Remove Unwanted Yard Waste

If you've pulled the weeds in your lawn or recently ground down an unsightly tree stump, we commend you for the hard work! But if you don't discard those yard scraps soon, it can detract from your attempt to keep your landscape in order. Instead of letting the pile of unwanted scraps mull in a corner of your yard until you have time to get around to it, try to remove them as soon as possible. The longer it sits there, the more time pests have to use it for shelter and food. This also applies to any fruit that drops from your trees! Also, according to The Lawn Institute, most landscape damage occurs when larger animals tear up grass and flower beds to scavenge for insects to eat. 
Consider Additions for Long-Term Prevention

There are several different options that serve both to beautify your home and ward off pests. For example, there are many types of plants that deter pests, such as marigolds and nasturtiums. Contact a trust landscaping company to learn more about your options! 
Adding crushed rocks, such as gravel, around your home is highly effective at keeping slugs, beetles, flies, and other pests at bay. Also, many landowners have mulch on their premises but the warmth and moisture make it a hotbed for crickets, ants, and spiders. Instead, adding gravel around your home instead of having mulch directly against your walls will prevent pests from having easy access to your indoors.
Inspect Your Water Sources

A clogged gutter with leaves and other plant waste is just like that pile of yard scraps mentioned earlier, in that pests love to make their home in it. Make sure that you get your gutters cleaned regularly and also check that your downspouts don't lead rainwater back towards your home. In addition, an empty flower pot or bird bath may seem like a bright decorative feature of your landscape. However, if rainwater is allowed to collect there, mosquitoes will collect in the stagnant water, making your lawn an unpleasant place for you and your family. Avoid the pesky mosquitoes by refreshing the water regularly or eliminating the fixture entirely. 
Avoid Overfertilizing Your Lawn
Everyone wants a lawn that looks vibrant and fresh and adding fertilizer seem like an easy way to accomplish just that. However, too much fertilizer won't help your plants grow. Instead, it'll attract nasty clover mites and millipedes, and can make mold and moss blossom.
A beautiful landscape can add joy to a home or commercial property. However, it can also take a lot of labor and investment. If you are interested in having professionals maintain your landscape and prevent unwanted pests from taking over, contact Giovine Landscape today! We have years of experience in caring for many satisfied customers and offer free estimates.