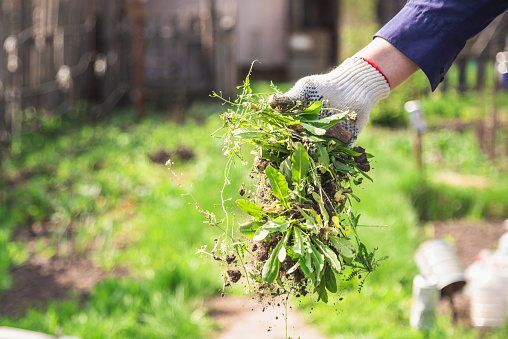 Every gardener recognizes what a hassle weeding can be. In the beginning, tearing up these intruders can be somewhat satisfying, but, after a while, that feeling wears off and it becomes a chore that no one wants to do. Now, keep in mind that weeds are nature's healing remedy for sites that are in a plantless state, however, weeds and gardeners have different ideas for whats makes a good recovery. On the bright side, there are ways to make this much more manageable. So, here are some tips for effective weed control.

Let Sleeping Weeds Lie
You should know that every square inch of your garden will likely contain weed seeds, however, only the ones in the top inch or two of soil will get enough light to trigger germination. Digging and cultivating in your garden will bring the hidden weeds to the surface, so every time you open a patch of ground, it is best to assume that there are weed seeds ready to erupt. Therefore, try digging only when you need to and then immediately salve that disturbed spot with plants or mulch. In lawns, you can also minimize soil disturbance by using a sharp knife with a narrow blade that can slice through the roots of lawn weeds to sever their feed source instead of digging them out. A good thing to note is that weed seeds can remain dormant for a long time.

Use Mulch
As mentioned earlier, mulch can be your best friend when it comes to weed control. They benefit plants by keeping the soil cool and moist while depriving weeds of light. In fact, organic mulches can host crickets and carabid beetles which are great for seeking out and devouring thousands of weed seeds. It is also important to replenish the mulch as much as necessary in order to keep it about two inches deep, If you go more than three inches deep, you might deprive the soil of oxygen.

Weed When The Weeding's Good
There's an old saying that goes "pull when wet; hoe when dry" and it is wise advice when facing down weeds. After heavy rain, you can prep yourself for a rewarding weeding session by equipping yourself with gloves, a sitting pad, along with a trug or tarp to collect the corpses. When dealing with dry conditions, weeds sliced off just below the soil line will promptly shrivel up and die, especially if you have a hoe with a sharp edge.

Lop Off Their Heads
Sometimes, when you are unable to remove weeds, your next best option is to simply chop off their heads. When it comes to annual weeds, deadheading can buy you a few weeks of time before the weed "seed rain" begins. By cutting back the tops of perennial weeds, you will reduce reseeding which forces them to use up food reserves and in the process exhaust their supply of root buds, thus limiting their spread. There are a few ways of achieving this, but know that no matter what method you go with, chopping down weeds before they can go into seeding will keep them from spreading.

So, these are just a few tips that will help you prevent the spread of weeds in your garden. If you have any additional questions or would like professional assistance, be sure to contact Giovine Landscaping at (973) 325-1758!