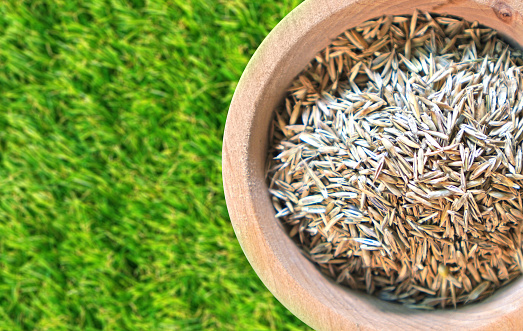 The spring season is finally upon us which likely means it is a sign to prepare your lawn for the growing season. The timing of when you start preparing your lawn will depend on the climate of your region, however. For example, if you live somewhere that gets a lot of snow, you will want to start when you are confident that the snow season has ended. Either way, homeowners in most regions should look to perform these tasks in the spring to help foster a healthier lawn.
Rake Deeply
Raking will be the first thing you should do as you prep your lawn for new growth. Keep in mind that raking does much more than remove tree leaves, because even if you did the best job at raking leaves during the fall season, you may still have to deal with thatch. For those unfamiliar, thatch is the layer of dead turfgrass tissue that lies between the green vegetation of the grass above and the root system and soil below. If this layer becomes too thick, it can be bad for the health of the grass. This is why you still need to rake deeply in the spring. Another benefit to doing so is that you can find matted patches of lawn. If you look closely, you may notice the grass blades are all stuck together which is a lawn disease known as snow mold. This will make it difficult for new grass to penetrate these matted patches, so by raking, you can solve this issue.
Assess The Soil
Another task you will need to do is assess the soil. Moss coating, for example, can be a sign of acidic soil. You can measure your soil's acidity and alkalinity using the pH scale where 7 reflects perfectly neutral soil. You will know that your soil is acidic if the pH level is below 7, and alkaline soils measure higher than a 7. New grass prefers a neutral pH, so if your soil is outside of that range, then it may not grow as it should and could even be subject to moss growth.
Overseeding
Over time, your lawn may be riddled with bare patches due to a variety of factors such as dog spots, heavy traffic, or even neglect. When this happens, it may require an application of grass seed to fill those patches. This process is referred to as overseeding where you are sowing seed over existing grass. It is possible that you may only need to apply seed to the visible bare patches, but it is not uncommon to overseed the entire lawn to ensure that it remains thick and healthy.
These are just a few of the many spring tasks you should take on this season to keep your lawn healthy. If you have any further questions on additional things you can do to maintain your lawn, feel free to contact Giovine Landscaping today at (973) 325-1758.