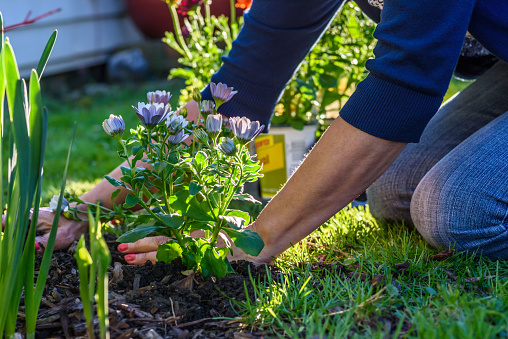 Have you been interested a starting a perennial garden of your own? If so, then you're making a great choice because it means you will not have to replant each year which can in turn save you time and money. Keep in mind though, that it does require some work and maintenance. In addition, there are some common mistakes that many people tend to make when growing a perennial garden. So, if you are new to this hobby, be sure to take a look at these common perennial garden mistakes you will want to avoid.

Failing to Plan Ahead
One of the first things you will want to do is plan out your garden ahead of time. Ensure that you have your plants in the right place for both growing needs and ease of long term maintenance. You also need to consider each plant's soil, moisture, and light preferences before getting started. A common mistake is to assume that all perennials are the same. Some like to be grown in quick-draining and sandy soil where others like to stay a little weaker throughout the day. You should also think about how it will be to tend your plants down the line because your perennial planting may make sense as it stands now, but you don't know how it might fare in the long term.

Ignoring Your Growing Zone
You will also need to take into consideration the growing needs of your plants and then match them to your growing zone. Every perennial plant will have a hardiness zone range that speeds up on the lowest temperatures that various areas of the country experience on average. So, don't ignore this, and be sure to choose plants that can thrive in whatever zone you are located in. You can use the USDA Hardiness Zone map for reference. Neglecting to do so might risk you wasting money on plants that simply won't survive.

Failing To Maintain Your Plants
Don't forget that tending to any garden is hard work and there is no way of getting around that. Especially, if you want a garden that will last, you will need to take good care of your plants. Now, as mentioned earlier, the benefit of a perennial garden is that they tend to be low-maintenance. However, that is not always the case and you may need to water and mulch your plants regularly. You should also not forget to fertilize your plants. Deadheading is another key aspect of maintenance as it is the process of removing any spent blossoms to allow plants to funnel their energy into root development and flower production later on in the season. Another tip is to divide your perennials as this will not only reinvigorate them but also spread the wealth to other corners of the garden. You should consider doing this once every three years or so.

These are just a few of the common mistakes that are easily avoidable when it comes to planting a perennial garden. For any further questions or tips on the subject matter, feel free to contact Giovine Landscaping today at (973) 325-1758!