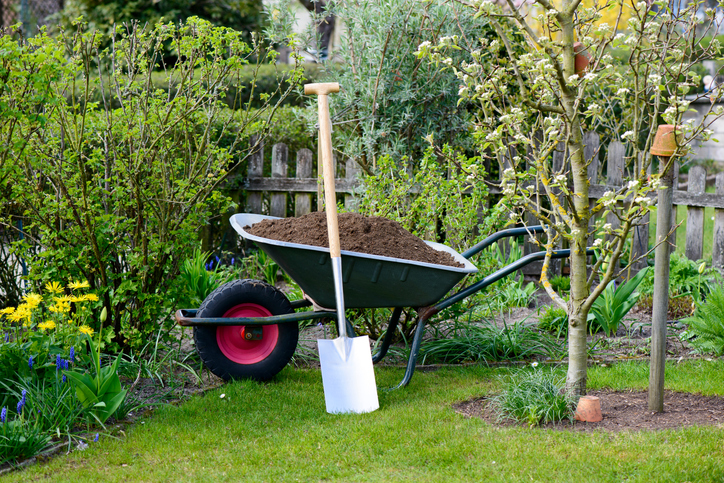 So you want to do some home gardening and landscaping. That's fantastic! Every homeowner should know how to tend to their property. If you're not sure where to start, though, you've come to the right place! We're here to help you stock up on all the gardening and lawn care tools you'll need. 
Gloves
When you're dealing with the elements and sharp objects, you're going to want to protect your hands! A nice, sturdy pair of gardening gloves will keep your hands clean and guarded from any possible hazards! You may also want to invest in other safety equipment like eye and ear protection, as well as long sleeve shirts and pants.
Hand Trowel
This is your most basic of lawn care tools. Versatile and reliable, hand trowels are the best tool to use for digging small holes and smoothing out gardening material. If you're looking to start a small home garden, a trusty hand trowel will take you a long way!
Rakes
We recommend picking up two types of rakes: leaf and steel rakes. Leaf rakes are for your typical fallen leaf and debris collection, while steel rakes are for more stubborn gardening components like soil and mulch. Both types are very useful for lawn maintenance and upkeep.
Shovels
When you have to dig up some holes or move some dirt around, a dependable shovel is your best friend! A traditional, curved-edge shovel is designed for transporting loose material, while a flat-edge spade is great for digging. Both types of shovels are imperative additions to your arsenal!
Hoe
If you intend to plant some seeds, you're going to want a gardening hoe. Weeds are more than likely to form, but a hoe will quickly eliminate them. Any serious gardener will have this tool in their kit!
Buckets
You don't have to carry everything by hand! Whether you're transporting soil or organizing your smaller tools, you're going to want a few buckets.
Wheelbarrow
If you're going to tackle a larger gardening project, you may want a wheelbarrow. It's a fantastic mode of transporting an immense amount of soil, mulch, compost, and/or gravel. You won't want to make a thousand trips back and forth moving all of that material!
Pruning Shears
Want to do some work on your bushes and shrubs? A sharp pair of shears will help you prune your shrubbery down to exactly how you want it to look. Be sure to call an expert before you do so though, as improper pruning can damage your bushes.
Lawn Mower
Your grass won't cut itself! Investing in a top-quality lawn mower will make your life infinitely easier if you're looking to maintain your lawn yourself. If you purchase a higher end mower, please do not hesitate to ask someone for advice on how to use it!
Leaf Blower
If you don't want to manually rake up all those fallen leaves, a leaf blower is a fantastic alternative! It's far and away the most efficient leaf-collecting practice, and it'll save you the headache of expending all your energy raking them.
There are many more lawn care tools to possibly add to your set, but hopefully this is a good enough start to get you prepared for tending to your garden and lawn! If you have any questions about these tools and how to use them, or you want a group of professionals to do all the work for you, call Giovine Landscaping today at (937) 325-1758!