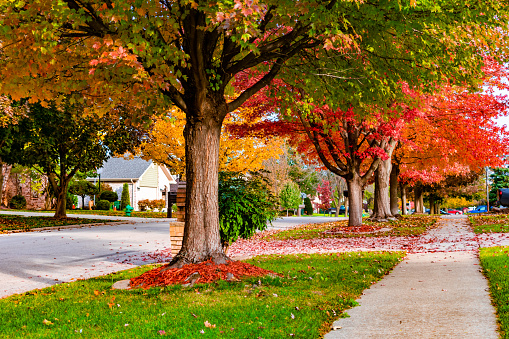 The sun provides us with free solar energy that keeps us warm, brings light into our homes, grows our food, and can generate renewable electricity. However, once the weather heats up, the sun can cause us to use even more energy as we need to run our air conditioners and fans to cool us down. Keeping the sun off of our homes and windows during the summer, which is rapidly approaching, can help you save both money and energy. One of the best ways to do just that is by planting shade trees right in the location of your home so that they can block the sun from streaming through the windows. There are so many options to choose from as well, but you can also find options that can grow fast. So, here are some of the popular fast-growing trees that can add shade to your property.

Hybrid Polar
One of the most popular fast-growing shade trees is the hybrid polar. These trees can grow up to 8 feet per year and even mature at about 40 to 50 feet high. There are many different types of hybrid polars like the Populus deltoides x Populus nigra variety, which is also known as the "cottonless hybrid" and it is a little less messy in the yard than some of the other varieties. 

Nuttall Oak
Nuttall Oak is another fast-growing shade that is also known as red oak or pin oak. These are also the fastest-growing variety of oak and they provide not just a leafy canopy, but also a consistent supply of acorns each year.

Red Maple
Red Maples are also good for more than just casting shade as they also add a burst of color in the fall as the leaves turn a vibrant red before they drop. Red Maple's growth rate comes to about 3 to 5 feet per year and tops out at about 40 feet high which helps to rapidly create privacy and shade for the home and the yard. 

Paper Birch
Paper birches, while also being a fast-growing shade can also feature white bark which can add to the look of any yard, especially during the winter once the leaves have dropped. These can also be tapped for their sap and be made into birch sap. Keep in mind that you might need a few of these trees if you want to make it work your while. 

American Sycamore
The American Sycamore, also referred to as the American planetree is another fast-growing shade tree that also has a whitish mottled bark and is capable of growing to be quite large. Now, these are typically found near rivers and ponds, but they can also be grown in an urban yard and grow as much as 6 feet per year reaching heights of 70 feet and more.
 Now, be mindful that not all of these shade trees will be the best fit for your yard. There will be many variables that you must take into consideration such as the length of the growing season, the frost dates, the temperatures, annual rainfall, and the type of soil in your yard. So, if you have any questions about which fast-growing shade tree will be best for your specific region, feel free to contact Giovine Landscaping at (973) 325-1758!