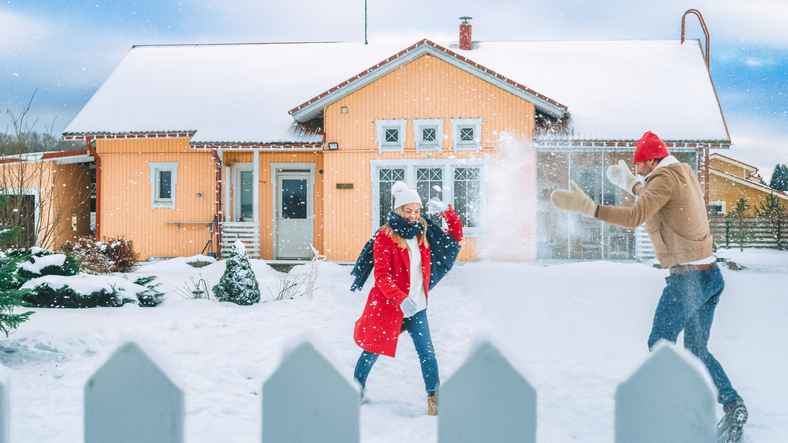 Winter is coming quick with weather already dropping into the 20's and your lawn can actually become damaged due to this severe weather. Cold weather damage leaves nasty dead spots, unhealthy soil, and weak growing grass. While you may want to do nothing more than hibernate and sit by the fire this winter, there is some work that needs to be done first to care for your lawn in order to prevent dead lawn spots from forming. Doing this little bit of work up front will create a lush green lawn built upon healthy soil this spring. By simply protecting your grass and following a strategy to promote lush spring growth, you can almost guarantee a healthy lawn this spring.
Protect Your Grass This Winter
Firstly, clear your yard of leaves because just keeping your yard clear will protect your lawn. A pile of leaves sitting on your lawn is one way the grass underneath gets killed since this pile blocks water, sunlight and air from reaching your grass. Next, put down a layer of mulch surrounding your plants, trees, and shrubs to give them extra protection this winter. Putting down mulch helps maintain a uniform temperature in the soil around your plants. You can use your lawnmower to mulch a small amount of leftover leaves on your property, which creates a layer of nutrients for your grass to absorb. Another way to protect young trees is to wrap a wire mesh around them protecting them from animals gnawing on the bark during winter.
Usually during winter, it is much easier to walk across the grass then to use the sidewalk, especially if the sidewalk is slippery with ice but by cutting this path across your grass, the grass will have a difficult time re-growing in the spring. Try not to continually walk across your grass and keep sidewalks clean and walkable during the winter. Rock salt can damage your lawn as well. When applying rock salt to your driveway and sidewalk, make sure to avoid the lawn and the plants. You can also wash away any salt with a hose or bucket of water if you get rock salt on your lawn and plants. These above strategies prevent damage to your grass so that dead spots won't form during the spring.
Promote A Healthy and Lush Spring Growth
Fertilizing your lawn during the fall is one of the best ways to add nutrients to your lawn that will make it full and lush during spring. During the hot summer months, nutrients are lost and by fertilizing in the fall, nutrients will get trapped in the soil during the cold and freezing winter months. These trapped nutrients will be released in the spring causing a lush lawn to grow. Also, clean up any items left on your lawn whether that's toys, lawn furniture or stray logs before the first snow comes. You can clean your lawn of these objects before the last mow of the season and do occasional sweeps during the winter months as well. If an object gets frozen to the lawn, it can create dead spots and, in the spring, those areas will appear stunted and thinner.
It is a good idea to aerate your lawn in the fall as well. Aerating your lawn will give your grass the chance to breathe before it becomes dormant for the winter and relieve any soil compaction that has developed during the warmer summer months. You can purchase an aerator at your local home depot. An aerator removes plugs of soil from your lawn loosening compacted soil and allowing vital air, water, and nutrients to reach the roots of your grass. Doing so, gives your grass the ability to grow fuller in the springtime.
Conclusion
Strategies like clearing your lawn, mulching leaves, keeping it free of rock salts, and adding fertilizer are all ways you can prevent damage to your lawn this winter and provide your lawn nutrients that help it flourish in the spring. It is a small amount of work to complete these tasks but having a lush lawn free of dead spots will be well worth it. For your landscaping needs, call Giovine Landscaping at (973) 325-1758.