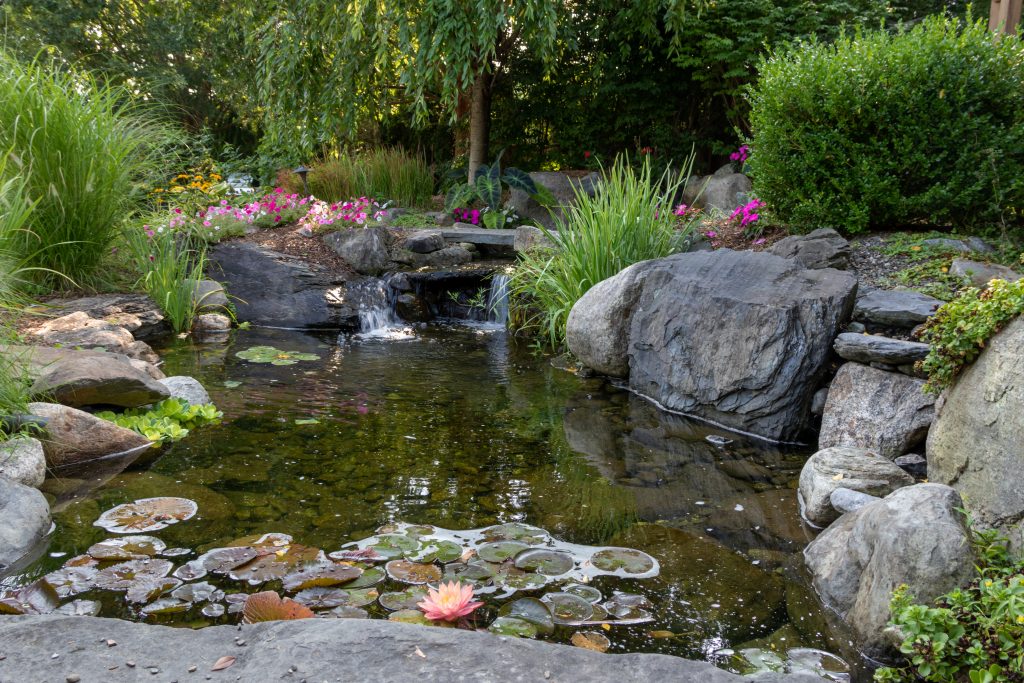 Backyard water features come in many shapes and sizes from tiny bird baths to giant ponds but all backyard water features bring a touch of class and beauty to any landscape in which they are present. Water features can also promote good psychological health and even help local wildlife so they are a great option for any homeowner to consider for their yard. There are of course a diverse array of water features that you can choose from as a homeowner. So today the experts here at Giovine Landscaping are counting down four water features you should consider installing on your property.
1. Ponds
The classic backyard pond may be the first thing you think of when you read the phrase "backyard water feature" and for good reason a pond can bring many benefits to your property. Ponds make for a beautiful addition to any yard and can also be beneficial for wildlife. Backyard ponds can be constructed above and below ground and can come in various different shapes, sizes, materials, and styles based on your needs and tastes. You also need to decide upon your priorities with your pond.
Are you trying to create a beautiful koi pond centerpiece for your yard or are you trying to foster wildlife viewing opportunities? Your answer to this question will impact the depth of your pond, the plants you will use for your build, and whether or not you will add domestic fish to your pond. Wildlife ponds should include gradual increases in depth within the pond, native plantings in and around the water feature, and a position in your yard where they will get both shade and sun at different times of day. Wildlife ponds should also not include chlorinated water or domestic fish because these can both kill wildlife.
2. Bird Baths
Bird baths are a simpler water feature that requires much less upfront cost and day-to-day maintenance than the others on this list. A simple bowl filled with water is all you need to attract many bird species to your yard. However, like ponds, bird baths can come in many shapes and sizes. Some are intricate fountains with built-in heaters to keep bird baths ice-free through winter while others are simple homemade craft projects. However, all good bird baths have a few things in common. Bird baths should never be more than 3 inches deep otherwise small birds will not use them. It is also important to situate your bird bath near cover so birds can escape predators. It is also essential to clean your bird baths during warm weather to avoid spreading disease to your avian guests and to prevent mosquitoes from hijacking your water feature.
3. Waterfalls
If you have an uneven or sloped yard a personal waterfall could be a natural fit for your property. Waterfalls are not only beautiful to look at, they also provide the soothing sound of running water to your yard. The sound of running water can block out the sound of suburban noise pollution and can generate positive psychological benefits. Backyard waterfall features range in price from a few hundred dollars to thousands of dollars depending on the size and complexity of the waterfall but this investment can also improve your property values and even improve air quality. Waterfalls are also versatile water features because they can be combined with other features like ponds, streams, fountains, and natural swimming pools.
4. Streams
Streams offer the natural-looking vibes of an inground ecosystem pond and the sound of running water offered by backyard waterfalls. Backyard streams can be pre-fabricated or created independently with gravel, stones, and plants. The running water of a backyard stream can also attract wildlife just like a pond or birdbath. However, just like with a pond, if you want to maximize the benefit to wildlife you should include native plantings in and around your stream and avoid using domestic pond fish. Either way, a backyard stream can beautifully tie a yard together and can also be used to extend or connect previously existing water features on your property.
We Can Help With Your Backyard Water Features
There are many types of water features you can consider for your property, including ones not mentioned above, like fountains, water gardens, traditional and natural swimming pools, tabletop water features, wells, and more. Our experienced professionals can help you choose the best water feature for your property. If you decide you want to install any of these water features on your property, reach out to Giovine Landscaping for our landscaping design and installation services.